Reading Recommended by His Grace
During the blessed month of Tobe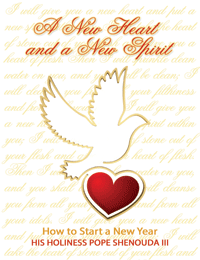 In the Name of the Father, the Son, and the Holy Spirit, One God, Amen.
The reading recommended for the month of Tobe is "A New Heart and a New Spirit" written by HH Pope Shenouda III.
As we begin a new year, we often reflect on the previous year to help us set goals for the coming year. Thus what an excellent book to read as we begin the new year with hope, joy and love. His Holiness begins the book with a new year prayer filled with these attributes of hope, joy, love and thanksgiving.
This book consists of four chapters. The first chapter focuses on accountability. Everyone needs self-examination in order to develop a practical plan for the new year. It requires an honest assessment of one's self without entering into despair but into hope as St. Paul says "rejoicing in hope" (Romans 12:12).
The second chapter focuses on the newness. "I will give you a new heart and put a new spirit within you" (Ezekiel 36:26). As we pass from year to year, there needs to be a change within us. This change requires the love of our Lord Jesus Christ to enter our hearts.
The third chapter focuses on time. Life is time and how we utilize the time reflects our life. His Holiness tells us:
"Each minute filled with goodness is that which counted in our lives; they are alive times in our lift. As for the times which we do not use in goodness, they are dead; they are not counted in life, but rather they deaden others along with them."
The fourth chapter focuses on tidings of joy. Through the birth of our Lord Jesus Christ, joy and peace were born. Now we are capable of attaining salvation for the gates of Hades are destroyed and the gates of Paradise are open. "Behold, I bring you good tidings of great joy" (Luke 2:10).
I pray that we all open our hearts and begin this new year with our Lord Jesus Christ as the center point and glory be to God forever, Amen.
Bishop Youssef
Bishop, Coptic Orthodox Diocese of the Southern United States